We were recently told by UK government that there would indeed be another three weeks of lockdown. With Lockdown-1 almost behind us, we look forward to entertaining you with
– Lockdown-2!
Week 1: Buffs and Encore
Active from Tuesday 21st to Monday 27th April
Beginning Tuesday 21st we will be offering Double Drops, 50% more supers and +20% more monster spawns. That's right, dungeons will be packed with loads of monsters, with loads of supers dropping loads of loot. That's got to be a load off your mind. Sit back, point the cursor and play the F-keys like a keyboard.
Buffs will end Saturday morning.
Dungeons & Dragons Encore
Do NOT miss out. For three days only the insanely popular Dungeons & Dragons event will make a final return. Glaurung, your friendly town serpent, will welcome you into the event once more from Saturday 25th April at 2pm BST until Monday 27th at 23:59:59.
Week 2: Easter Island
Active from Tuesday 28th April to Sunday 3rd May
Some of you were disappointed that we missed the bunny rabbits and eggs from this year's Easter events. We decided to answer your call!
It's always Easter, on Easter Island!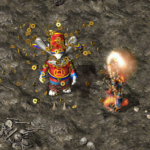 Look out for Bugsy, your friendly confetti-throwing big eared bunny in Bichon Wall safezone.
Busgy will teleport you to the Island of Easter, where Spring is the season and giant glittering eggs are waiting to be smashed open for goodies.
There will be different island for different level brackets, each filled with content specific to your level and accomplishment.
Week 3: Lockdown!
Active from Monday 4th to Sunday 10th May
It's lockdown in Arcadia, our towns are coming under siege! During this week, there will be regular town invasions of monsters and bosses.
Build the barricades and dig in your heels. Things are going to get ugly. For anyone that was around at Christmas, we all had a lot of fun with Siege on Snowbrook and hope that can be extended across multiple provinces.