Who will be the first to discover Elysium?
Join us, Saturday 16th 10 AM BST and find out. The portal can only be unlocked from the other side..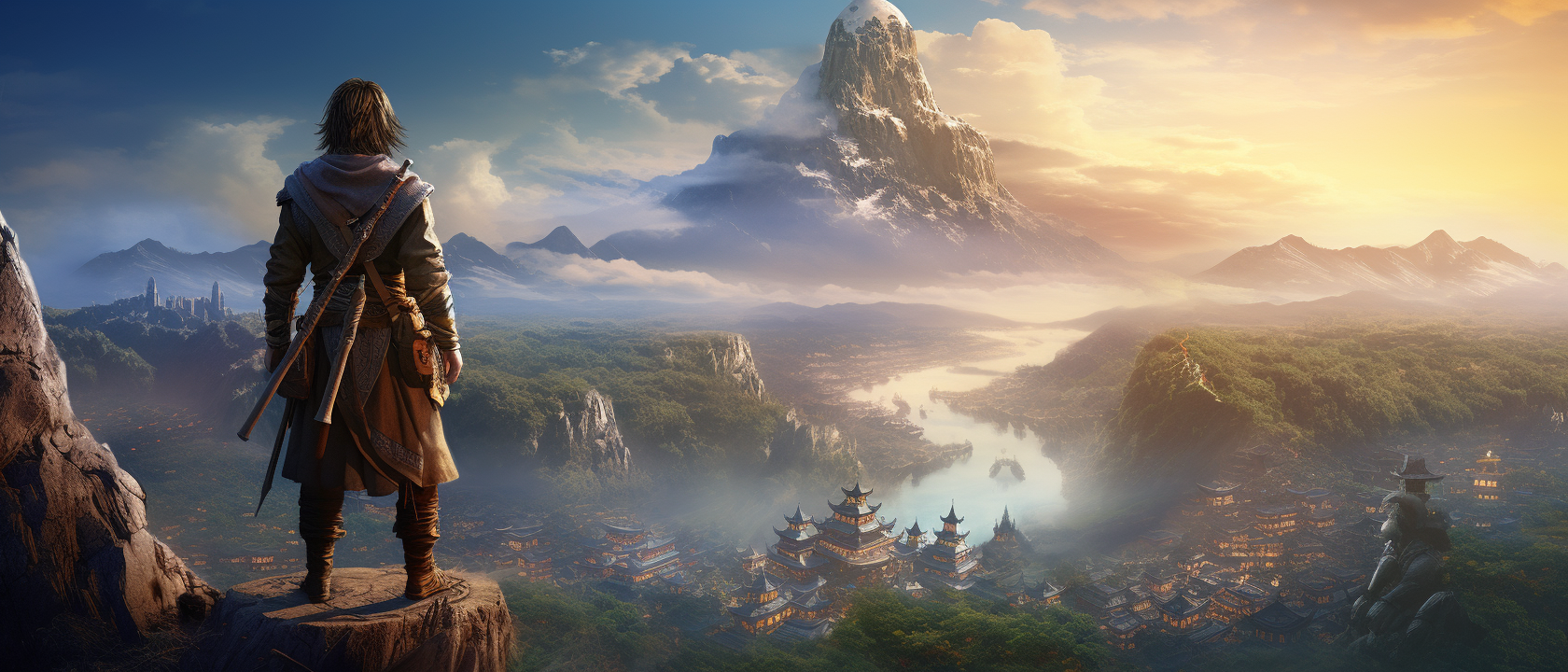 At the core of the Elysian City update is a new level cap. The hard cap has increased from level 195 to level 200, with Heroes League entry at level 195.
Resting XP will now continue all the way up to level 199.
Ready for a smoother journey, hero? We recently had a significant game re-balance for 0 – 180 which significantly reduced the XP needed to level up and also increased drop rates on equipment up to that level. We are pleased to confirm there have been some further adjustments in this area and players can now expect some more improvement here.
Important note:

XP changes

As often happens, XP tables have grown a little large. We have therefore taken the step to divide all XP by 2 – that means mobs now give half their usual XP and you will only need half the usual XP to level up.
The Elysian City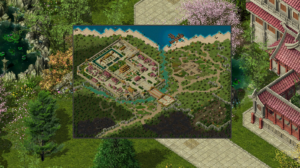 Your Heroic journey to the Elysian City will begin with a new Quest "Tales of the Other Side" (quest visible from level 160 but access still possible for others).
Once there, you will discover a thriving city protected by a great wall from the powerful level 190+ monsters which surround it.
Discover merchants with skills such; as multi-item socketing and multi-item salvaging; pet food crafting and orb refining; mythic socketing and mythic salvaging.
Travel out to the scorched earth around Hellmouth and fight the powerful Alu Demons who hold on tightly to level 194+ equipment.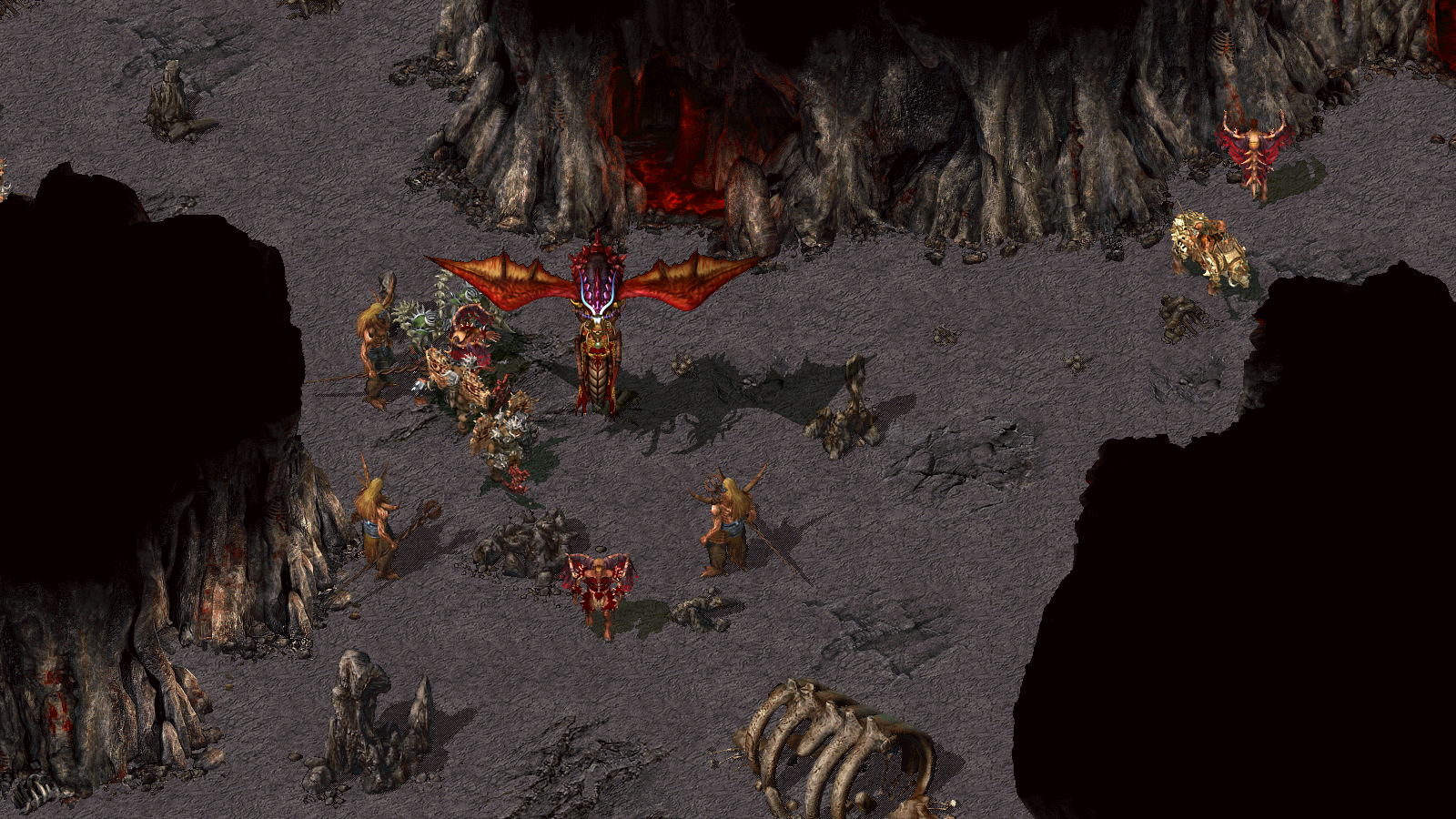 Gain Achievements for slaughtering an Alu Beast or even an Alu Champion as they guard the entrances to the Infernal Rifts – the source power for level 4 skills.
Hellmouth and the Infernal Rifts operate with "hidden supers" – all Super and Champion monsters will remain hidden until they are hit at least once.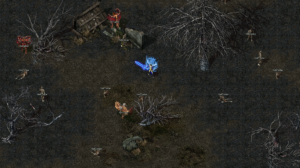 Would you like some Ghoul Flesh with that Elixir? Enjoy a new selection of boss "trophy" drops to use in potions as powerful alchemy ingredients.
GameShop Updates
The Game Shop has been updated with some price changes and some items removed. There will be a new store-front released on the forum where "new" packages of GameGold can be purchased, incorporating new game features such as Gold Ink available as a free gift!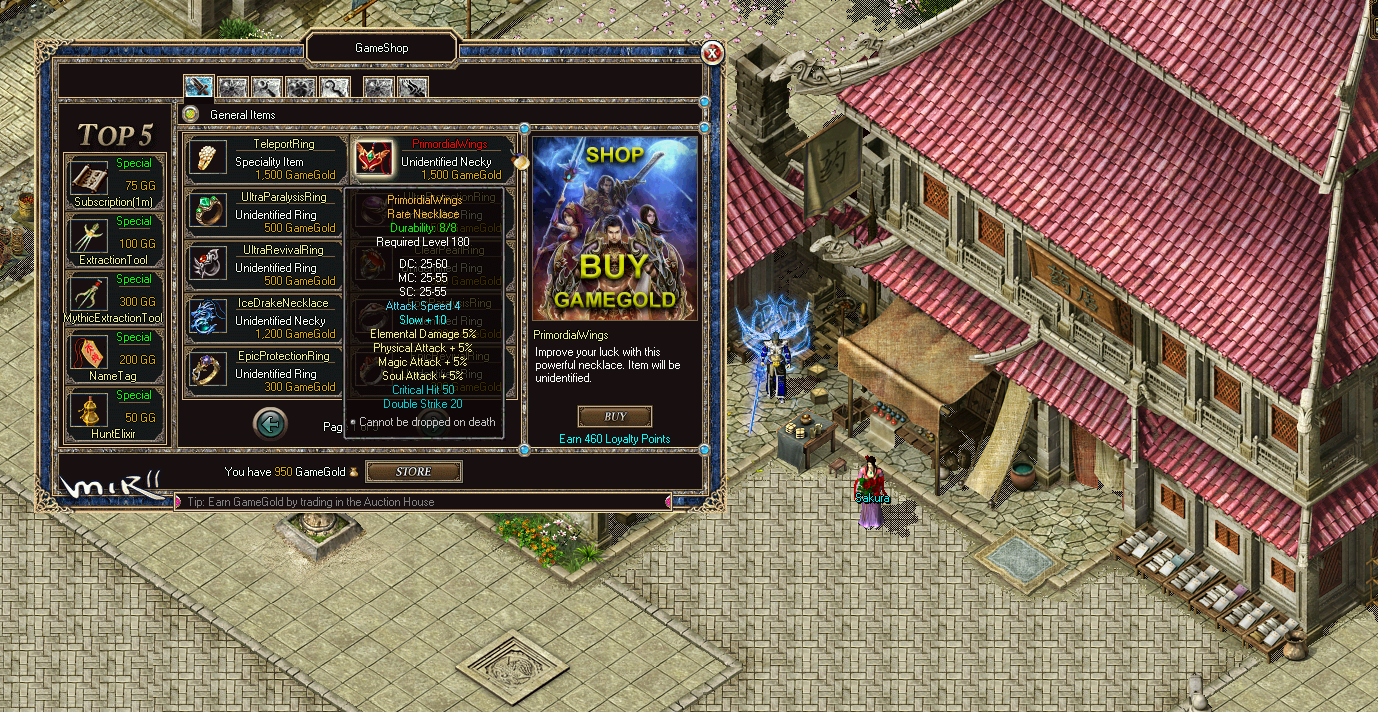 ✓ New Necklace: Primordial Wings
✓ New Ring: Ultra Paralysis Ring
✓ New Ring: Ultra Protection Ring
✓ New Ring: Ultra Revival Ring
✓ New Ring: Clear Pearl Ring
✓ New Hunt Elixir to replace Hunt Bundle
✓ New Super War God Oil (repairs full kit where repair is allowed)
✓ New Extraction Tool to remove all sockets from level 180+ items (limited time availability)
✓ New Gold Ink Erase to remove any custom names from items

Gold Ink allows you to rename your favourite equipment.
IMPORTANT NOTE: Game Gold and Loyalty Points exist on a per account basis. If you have separate characters with Game Gold on them, once you log into them the Game Gold will be moved to your account and be available to all characters.
Demon Soul Shop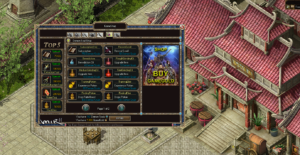 Collected more souls than you need? A new shop has been added which sells basic potions, Revive Scrolls AND Subscriptions for Demon Souls. All items sold here are bound to account.
Loyalty Points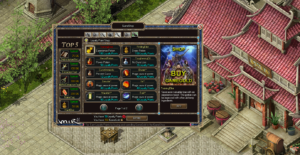 We have implemented a new Loyalty Point system. Buying and spending Game Gold will bag you some well deserved Loyalty Points. You can spend these on general buffs and potions or save up for exclusive rare items.
New Item Upgrades
A large part of this update was adapting all the current upgrade pathways and adding new levels of quality while consciously keeping a good balance of power in game.
Epic Socket Runes & Extractor
Looking to make your kit Epic? Combine 3x XL or "Perfect" runes to make Epic Runes!
Available for BraveryCrystal, MagicCrystal, SoulCrystal, Emerald, Ruby, Sapphire, Topaz, Tanzanite, Almandine, FuryRune, ArcaneRune and SpiritRune.
Use an Extraction tool from the Game Shop to pull out all the sockets on an item above level 180 (time limited availability).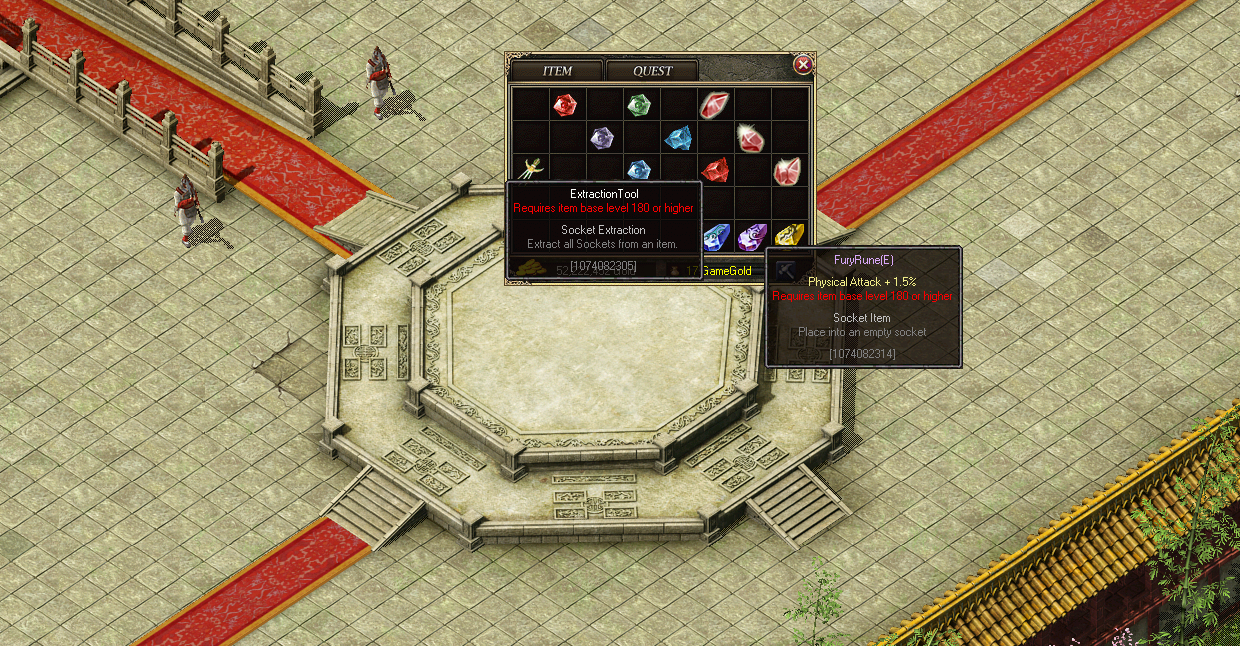 PLUS: Drops of the above runes/sockets have been increased/added on main bosses/subs from level 120 onwards.
Epic Gems & Orbs
Epic Gems and Orbs are now available for equipment level 190+.
All gems in game can now be upgraded using the player's inventory upgrade facility. Simply combine 2x Gems with 1x Gem Refine Oil and you will create a gem of improved quality.
Perfect Bravery Gem + Perfect Bravery Gem + Gem Refine Oil = Epic Bravery Gem
Speak with Kevin in Mongchon to buy Gem Refine Oils or look out for a bounty from Foxx who sometimes has some to give away!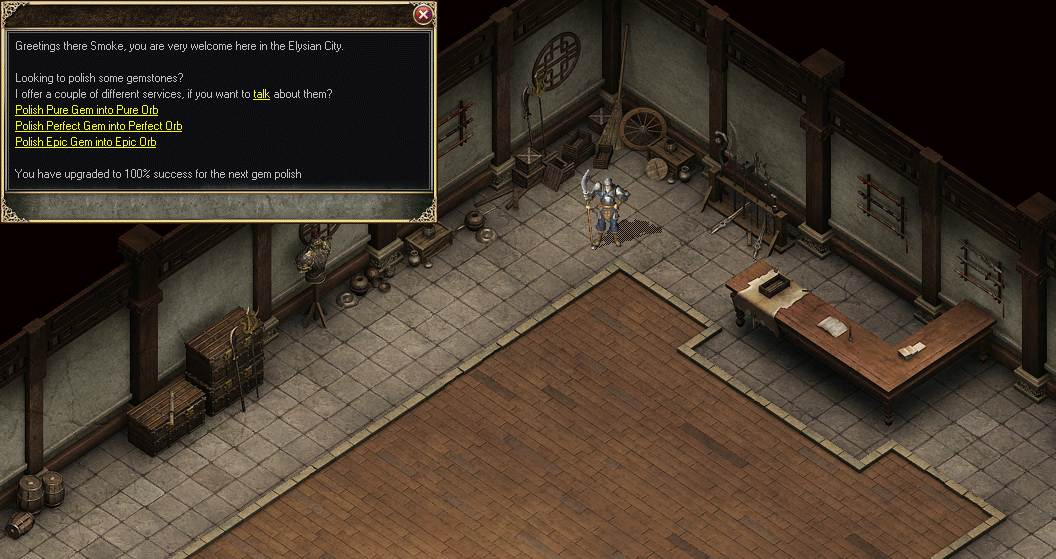 Looking for higher success rates when crafting Orbs? Visit Kevlin in Elysium. He would make Kevin cry! Upgrade from 80% to 100% success for GameGold.
Elysian Orbs
Create powerful Elysian Orbs in the Elysian City which add a unique suffix to level 190+ items.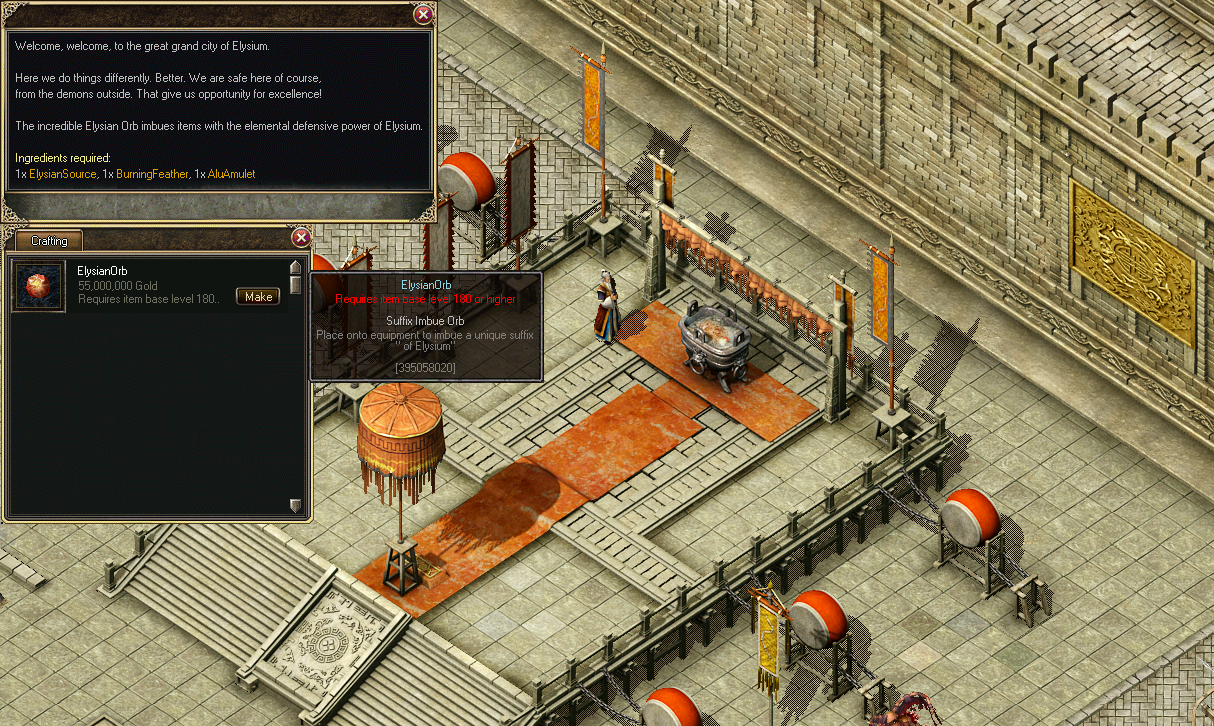 Weapon and Armour Level 4 Upgrades
Visit TEN new skilled Elysians and discover their unique abilities to upgrade your favourite Armours and Weapons..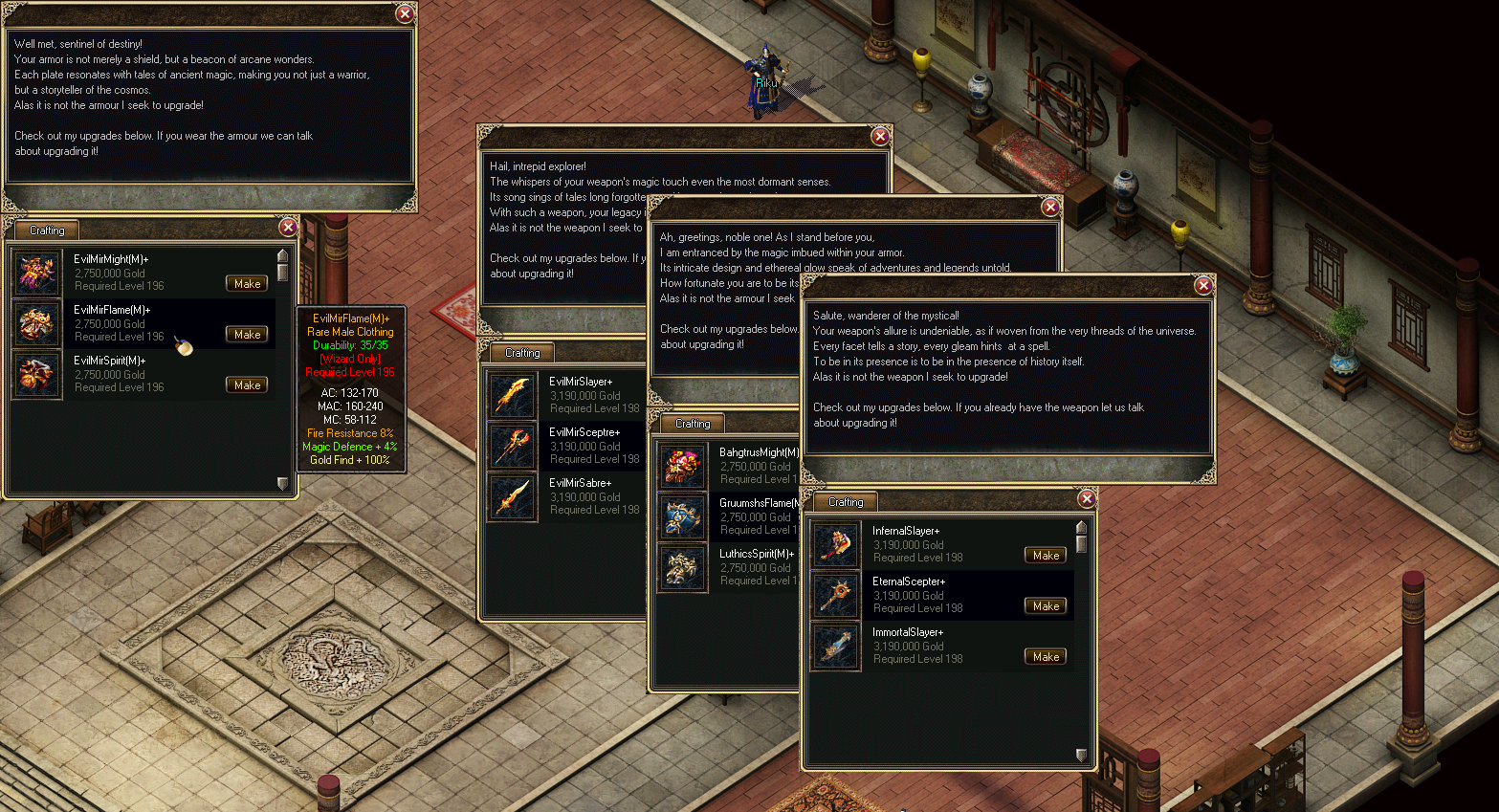 Arcane Vault
Each player character now has it's own personal Arcane Vault of Gold, Demon Souls and XP! (unlockable from level 100)
While hunting, in addition to what you normally collect, the Vault fills with extra points and can then be unlocked by collecting keys.
You'll need 5x Silver Vault Keys and 1x Gold Vault Key. They keys can be taken from the Game Shop or Silver keys will drop while hunting (once the Vault is "filled").
Your Arcane Vault is classed as "filled" when one or more of the bars reaches 100% (that is for Gold, Demon Souls and XP). Maintain an Extermination Meter for the keys to drop.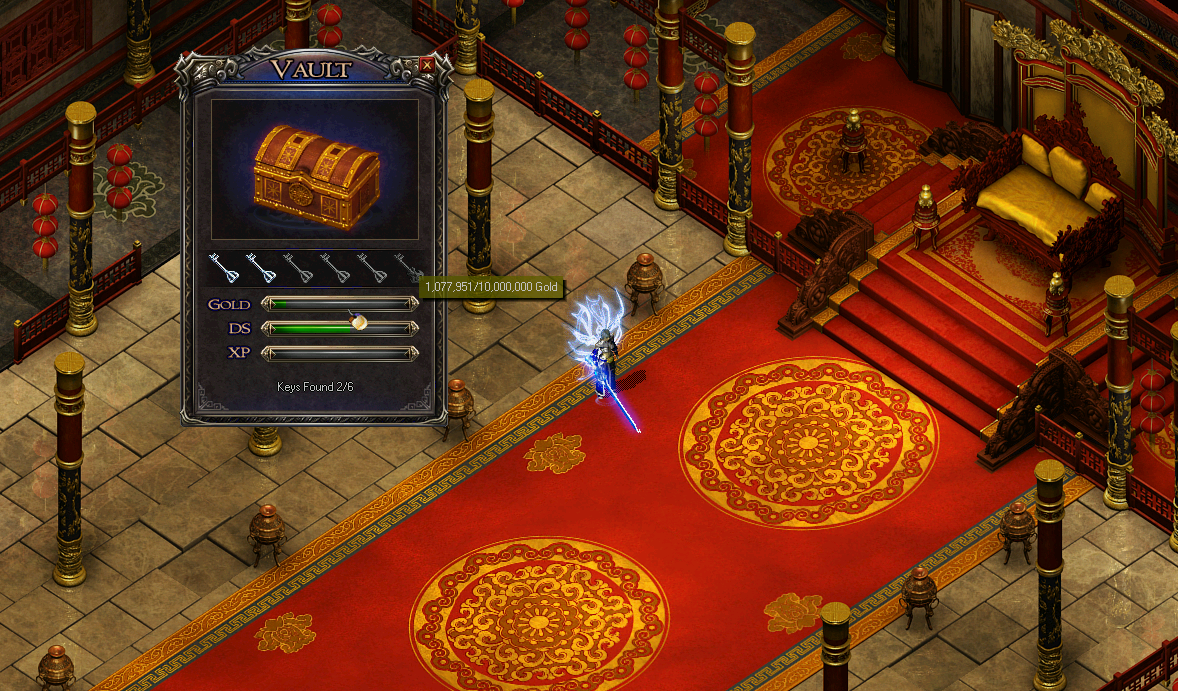 Account Buffs
Level a Warrior, a Wizard and a Taoist on your account to share buffs between players.
There are 3 levels of buffs to be earnt at different levels:
10 levels below Heroes League (currently 185)
Heroes League (currently 195)
Level Cap (currently 200)
✓ A high level Warrior will share 5/10/15% AC to your Wizard & Taoist
✓ A high level Wizard will share 5/10/15% MAC to your Warrior & Taoist
✓ A high level Taoist will share 50/100/150% MP Recovery to your Warrior & Wizard
Level 4 Skills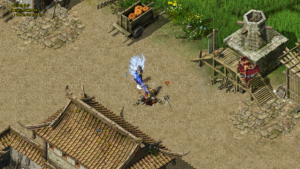 All skills now have the possibility to train to level 4. In order to unlock these skills, players must travel to the Infernal Rifts and find the source of each skill upgrade.
PK Protection and Karma
Some trial features for PK protection have been added. These features will be constantly reviewed to ensure the balance is fair for players who wish to play on either side of the good / evil camp.
Increased the PK points gained when a high level player kills a low level player
Increased the Karma points lost when a high level player kills a low level player
Increased the cost of removing PK points based on Karma
Bug Fixes and Other Issues
✓ Fixed bug – alchemy ingredients not deducting time from potions as described
✓ Fixed issue with skill cast speeds and A.Speed
✓ Renamed Critical Strike to Double Strike to reduce confusion
✓ Old Unique "bound to account" items will now unbind on use
✓ Curse power on AC/MAC reduction & HP/MP Recovery reduced by 50% in PvP
✓ Buff timers will now pause while in a main safe zone
✓ Some changes to Arena of Heroes boss spawns and progression
✓ Added more Demon Hoards to the Arena of Heroes
✓ Limited ability to take Power Orbs into Blue Dragon Palace
✓ Item levels no longer change due to the number of upgrade stars they have
✓ Arcamon now have a level overlay in the inventory to assist in identifying them
✓ Improved merchant shop loading time
✓ Improved Item Deposit loading time
✓ Prevented key press (Enter/Return) from allowing items to be destroyed on drop – user must click "yes" using cursor
✓ Added notifications for Wizard pets – on un-tame, on death and when tamed by another player
✓ Removed notification "A champion monster has been located" to encourage more conscious gameplay
More to Come
Unfortunately development takes a long time and so many ideas that players had suggested were not finished in time for this update. As you may notice from the content above, most of these new features are intertwined and so it was important to make sure they were all released together.
We will look forward to getting started on the next update right away!