Greetings Arcadians! Following on from a project that started nearly 10 months ago with a much needed upgrade to Warrior Skills, and a mini Skill Review then in March, we are pleased to finally deliver a much more substantial rework of all skills in game.
Some skills have been removed, some combined, some tweaked, some completely reworked and we have a handful of new additions (for now!).
We thought at this point it was a great opportunity to get these updates into Arcadia and allow everyone to see what they think so we can use feedback to make more tweaks and ensure that the next set of skill releases are filling the gaps that we want them to.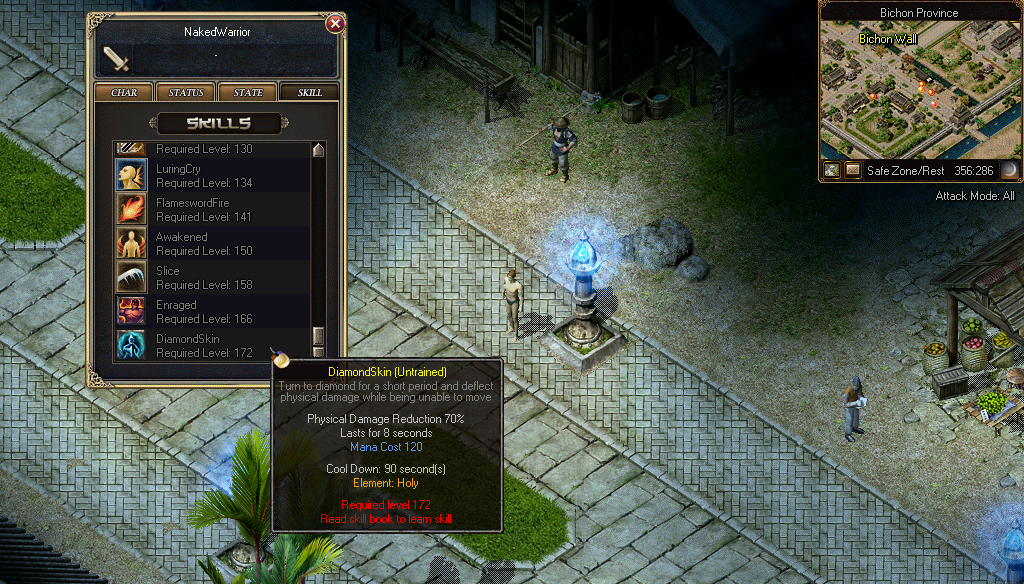 ---
Key Updates to Skills and Spells
✓ All skills have been reviewed for their performance and modifications made where it seemed appropriate. This is by no means final and we would like to hear player feedback
✓ All skills have been reviewed for "train point" requirements in order to improve the experience of leveling them up
✓ All skills review of Mana points to be more in balance of power and need, and to more properly reflect the class' Mana pool
✓ All skills updated to new drop files for specific books in specific locations (see below)
✓ All skills updated to allow level 4 (where possible), level 4 is locked, to allow for future releases
✓ Skills updated in GameShop and have prices set to 100 GG, primarily for those who wish to power-level and skip hunting for them
✓ Some skills have been completely removed from drops and it is likely these skills will be removed from game in the near future
✓ Skill magic Elements have been considered, however a more fundamental change may be considered in future
New Skills and Spells
✓ New Skill (Warrior) – Enraged – Passive – Increases the duration of Damage Field, Protection Field and Berserk
✓ New Skill (Warrior) – Diamond Skin – Turn to diamond for a short period and deflect physical damage while being unable to move
✓ New Skill (Wizard) – MultiStrike – Passive – Increases the number of strikes discharged by Thunder Bolt
✓ New Skill (Wizard) – Frozen Orbs – Absorb atmospheric magic and charge orbs of ice to provide additional spell damage
✓ New Skill (Wizard) – Nurture – Consume 30% mana to heal nearby pets. Maintains pet's life when you die. Increases retame time at max skill level
✓ New Skill (Taoist) – Cleanse – Passive – Enhance your Purificaiton ability to remove additional ailments. Effects pass to healing skills
✓ New Skill (Taoist) – Salvation – Increase the elemental resistances of allies
✓ New Skill (Taoist) – Master Summoner – Passive – Enhance BoneFamiliar and Shinsu, and sustain both a Guardian Angel and an Elemental at the same time
✓ New Skill (Taoist) – Replenish – Passive – Automatically replenish Amulets or Poison Bags in the Amulet slot
✓ New Skill (Taoist) – Plague – Start a plague infecting nearby enemies with both Red and Green poisons
✓ New Skill (Taoist) – Intensify – Passive – Adds additional effects and increases the rate of damage from Holy Fire, Holy Freeze and Holy Shock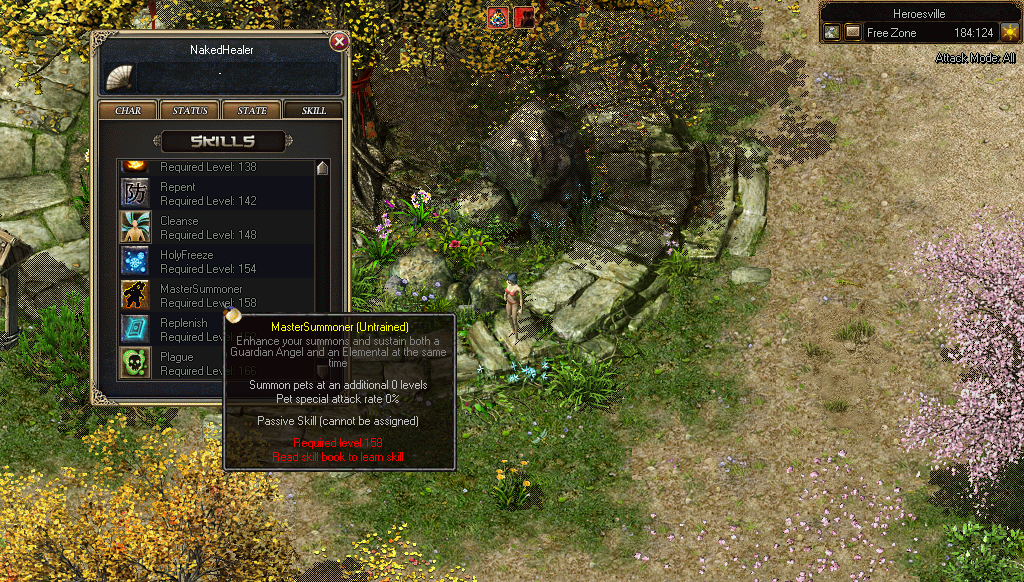 Skill Book Drop Locations
Region updates and changes over the years meant that skill books were not dropping in appropriate regions. This has also been affected by changes to skill levels in this review. For that reason all skills level 55 and above have been updated to new drop tables and regions.
Generally speaking, each skill will now only drop from one region, although in some cases two dungeons may share the same drop tables. Skill books prior to the ones listed below will be implemented when content is revised and will be available through merchant shops.
This is not a comprehensive list:
Serpent Tomb – EtherealBlades, FlameDisruptor, EnergyRepulsor
Ant Cave – FlameField, Enhancer, AdvancedFencing
Prajna Temple – ToxicGas, MeteorStrike, DamageField
Insect Cave – CrossHalfMoon, FireThrust, SummonAngel
Black Dragon Dungeon – TwinDrakeBlade, Blizzard, LionRoar, BorealTiger
Fox Path – ShadowSlayer, ThunderNova
Svaltus Cave – Vampirism, Confusion, BlazingSword
Zuma Dungeon – GlacialShower, BlazingAmulet
Mutant Mines – DragonBreak, ChillingSword
Holy Palace – Berserk, InnerSight, Salvation
Hercules – LowerFire&Ice, FireFrenzy, Blaze
Forseti – Bloodlust, DragonfireShield, EnergyShield
Cisthene Cave – StormThrust, Ignite, Revive
Desolate Chamber – TwinDrakeFire, ArcticBlast, SummonElemental
Iku's Lair – Firestorm, FrostFrenzy, DevilsVision
Crystalline Passage – Inferno, SamuraiTraining, ThousandSword
Temple Of Ancients F1-5 – CallOfPhoenix, BattleCharge, HolyShock
Naga Ruins – MultiStrike, Enlightenment
Naga Valley – Swordsmanship, LightningStorm, ZombieCharger
Desert Tunnel – LuringCry, Translocation, HolyFire
Cursed Jungle – FlameswordFire, FrozenGround, Repent
Paradise Isles/Lakes – SuanniLegion, Cleanse
Isle of the Dead – Awakened, Bloodstorm, HolyFreeze
Desert City – Slice, Frostbite, MasterSummoner
Crystalline Temple – Replenish
Past Bichon – Enraged, FrozenOrbs, Plague
Orc City – DiamondSkin, Nurture, Intensify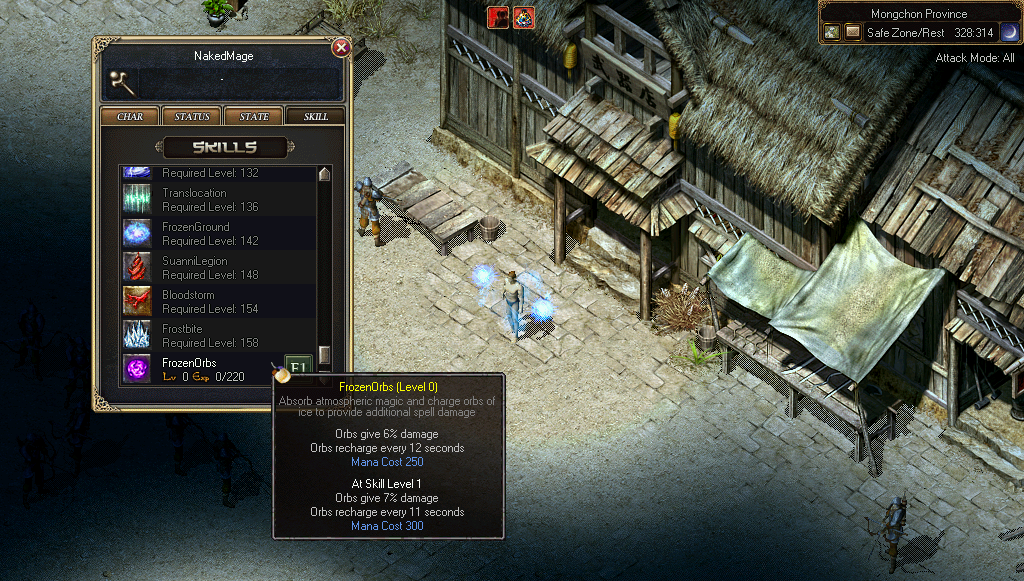 Itemised Changes
Below is a more detailed list of changes. We apologise if some changes may have been missed from the list – this was not intentional. Some updates reflect changes from March.
✓ Revelation – removed from drops
✓ Teleport – removed from drops
✓ TaoHalfMoon – removed from drops
✓ Terror – removed from drops
✓ Skill Fencing changed to level 8, increased Accuracy
✓ Skill SpiritSword changed to level 8, reduced Accuracy, increased Agility
✓ Skill Repulsion changed to level 8, reduced delay
✓ Skill Slaying changed to level 14
✓ Skill Thunderbolt changed to level 19
✓ ElectricShock extends pet tame time faster
✓ HolyFire, Shock and Freeze range reduced from 8 to 5 yards from player
✓ When pets untame they will now die
✓ UltimateEnhancer renamed to Enhancer
✓ ProtectionField reduced delay 1000 to 800
✓ DamageField reduced delay 1000 to 800
✓ Berserk reduced delay 1200 to 1000
✓ ThunderStrike reduced delay 1000 to 800
✓ SummonShinsu reduced delay 1200 to 1000
✓ EnergyShield reduced delay 1500 to 1200
✓ SummonElemental reduced delay 2000 to 1000
✓ Bone Familiar will now stand in front of master
✓ Shinsu will now stand behind master
✓ GuardianAngel will now stand to the rear right of master
✓ Elemental will now stand to the rear left of master
✓ HolyShock lowered to level 124 from 148
✓ HolyShock increased damage to undead, reduced damage to living
✓ HolyFire lowered to level 124 from 154
✓ HolyFire increased overall damage and damage to undead
✓ HolyFreeze lowered to level 154 from 158
✓ HolyFreeze increased overall damage
✓ EnergyShield increased defence
✓ Repent Increase to level 142 from 140
✓ Summon Skeleton decreased cooldown
✓ Summon Shinsu increased cooldown
✓ Summon Angel added cooldown, increased mana cost
✓ Summon Elemental increased cooldown, decreased mana cost
✓ Healing increased heal rate per second / tick
✓ Mass Healing increased heal rate per second / tick
✓ Grants lowered from level 75 to level 42
✓ Explosive Amulet lowered from level 96 to level 48
✓ Purification lowered from level 55 to level 53
✓ Soul Fireball lowered from level 18 to 17
✓ Mass Healing increased from level 33 to level 34
✓ Trap Hexagon increased from level 28 to level 31
✓ Blessed Armour increased from level 25 to level 28
✓ Soul Shield increased from level 22 to level 24
✓ Energy Repulsor lowever from level 60 to level 57
✓ Poisoning increased max duration
✓ Poisoning increased damage (green)
✓ Toxic Gas lowered max duration
✓ Toxic Gas lowered from level 70 to level 66
✓ Toxic Gas now takes poison power rate from Poisoning skill
✓ Zombie Charger increased damage
✓ Zombie Charger now takes poison power rate from Poisoning skill
✓ Thousand Sword added Slow chance to main target
✓ Summon Angel lowered from level 80 to level 72
✓ Blazing Amulet increased from level 85 to level 92
✓ Devils Vision increased stun time
✓ Hiding removed from drops
✓ MassHiding renamed Shroud
✓ Shroud will target the caster if not aimed
✓ Shroud increased range
✓ Guardian Angel does not engage in PvP (although they will attack pets)
✓ Guardian Angel is no longer classified as "Undead"
✓ Guardian Angel may Heal his master based on his Healing Skill and MP
✓ Guardian Angel may Purify his master based on his Purification Skill and MP
✓ Guardian Angel may Purify his master based on his Purification Skill and MP
✓ Repent will perform a 50% reduction to players
✓ Lower Fire Resist removed from drops
✓ Lower Cold Resist renamed Lower Fire & Ice
✓ Resist Cold renamed Salvation and increases all elemental defence
✓ Redemption removed from drops
✓ Meditation removed from drops
✓ Protection Field lowered from level 60 to level 47
✓ Protection Field increased AC gain
✓ Entrapment lowered from level 85 to level 51
✓ Storm Thrust increased damage to undead
✓ Ethereal Blades updated AOE and range
✓ Added an effect to Shoulder Dash
✓ Lion Roar increased max paralysis to 5 seconds
✓ Lion Roar is able to paralyse pets for the full duration
✓ MagicShield, EnergyShield, DragonfireShield duration reduces by a number of seconds proportional to the power of any attack taken (1% of raw power before any deductions)
✓ FireWall increased from level 24 to level 26
✓ Lightning increased from level 26 to level 29
✓ ThunderStorm increased from level 30 to level 32
✓ MagicShield increased from level 31 to level 37
✓ TurnUndead increased from level 32 to level 34
✓ IceStorm increased from level 35 to level 40
✓ Ice Blast lowered from level 55 to level 48
✓ Ice Blast increased damage
✓ Flame Disruptor lowered from level 70 to level 55
✓ Flame Disruptor increased damage
✓ Meteor Strike increased from level 65 to level 68
✓ FlameField decreased from level 80 to level 60
✓ Phoenix Dance removed from drops
✓ ThunderStrike removed from drops
✓ Frostbite updated cast effects
✓ Armageddon removed from drops
✓ Firestorm increased damage
✓ Ignite increased damage to undead
✓ Ignite is now activated for PvP
✓ Ignite can be terminated by Repulse, Dash or Purification skills
✓ Flame Disruptor updated GFX
✓ Flame Disruptor increased damage
✓ Thunder Nova added random stun explosions