Arcadians! Are you READY?
After many years of waiting, the Arena has finally been reinvented and updated. Previously the Arena peaked with a deadly battle against Dark Devil and finally a shoot-out with the secretive Dark Archer. Now, you'll be expected to fight many more bosses on a much larger stage.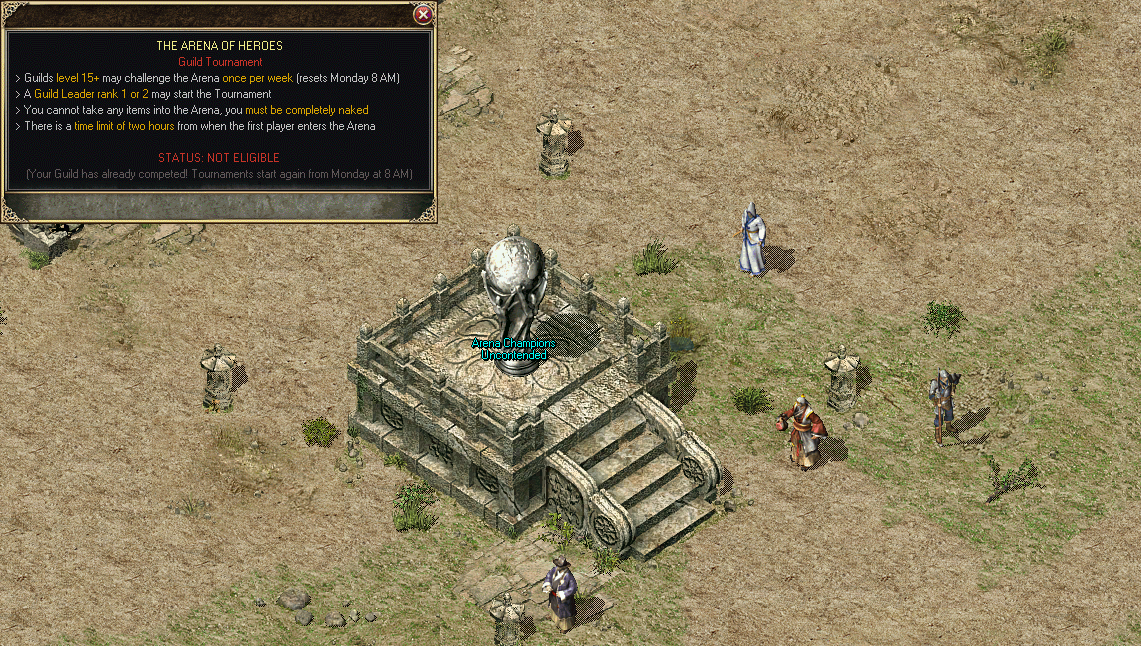 The Arena of Heroes
Enter a battlefield of Arcadia's most notorious bosses. Take on the Arena of Heroes once per week with your Guild. Fight til the end in order to win a Guild Tournament Shield.
Your challenge begins with a swarm of Scarecrows, Yobs and vicious Cats. Quickly defeated you will soon find your Guild battling through Oma Skeletons, Tongs Lords, Khazards, Arctic Wolves and many, many more of Arcadia's classic bosses.
What's the catch? You must start off completely naked!
It is a race against time to loot caches and armour up, before you quickly get over-powered by those monsters you thought so weak. Explore the area to gather resources to help you on your quest. But most importantly, work together to increase your Arena Ranking and become this week's – Arena Champions!
Details and Conditions
Only Guilds may enter the Arena, once per week, resetting Monday at 8 AM
Only a Guild Member ranked 1 or 2 may initiate an Arena Tournament
Guilds must be level 15 or above
No items except 1 candle slot item are allowed into the Arena. There is an Item Deposit in the staging area.
No Wizard pets! Any pets currently tamed by a Wizard must be put into Pet Storage which is available only inside the staging area
You have a maximum of two hours in the Arena
All Guilds who enter and complete at least 1 wave will receive a Guild Tournament Shield – granting an experience boost and extra gold find for your and your Guild