Are you feeling the Christmas spirit yet? Tis the season to be jolly with events on Arcadia starting soon! Download the game, log into your account and enjoy barrels of experience on Saturday 19th.
Snow is falling, all around us!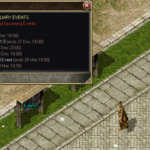 Now is the time to warm up with up with some sizzling hot buffs. Almost a whole week long of events for the whole server to enjoy. More spawns, 100% extra magic find, 1.5x exp and TRIPLE supers and champion spawns. All starting Saturday 19th at 14:00 GMT.
Head in game for details of timings. Event notice boards are over the bridge from Bichon Wall safe zone.
A Snowbrook Christmas
Not to be missed, this year's main event is split into three exciting segments. The classic Snowbrook Grotto maps are back with updated monsters, spawns and drops. The thrilling Siege on Snowbrook has again returned to wreak havoc with your hunting schedules – now contains a Siege on Snowbrook Pass for all you up and coming stars. And finally, found a present for Santa? Great! Return it to him and take a trip to his Grotto.
The main events kick off on December 23rd.
More information to follow!