Get back to Bichon this March with a 2 weeks free subscription for all characters on your account. Enjoy the latest season's updates with a nice stash of free perks by simply responding to our Facebook marketing or newsletter.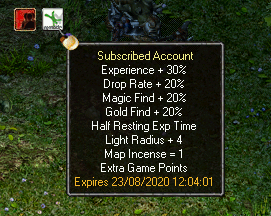 Experience + 30%
Drop Rate + 20%
Magic Find + 20%
Gold Find + 20%
Half Resting Exp Time
Light Radius + 4
Map Incense = 1
Maximum Storage
Extra Game Points
Rules
Maximum two free subscriptions redeemable per account (up to 14 days)

Only one free subscription redeemable per platform: 1) Facebook; 2) email

Must be collected in-game within a week of making the claim
Must be used in-game within a week
Sign up to our newsletter
How to claim
This weekend we will be giving away 14 days of free subscriptions for every account. There will be no competitions and no limits. All you have to do is respond to our newsletter or reply to our Facebook post.
We will be asking for your character names (we won't be asking for account names), however restricting them on a 2 per account basis (one for the newsletter and one for Facebook, each 7 days of free subscription).
Sign up for the newsletter above
Look out for our post on our Facebook group