This June on Arcadia, delve deep into Crystalline Passage to discover the stone cold frozen Crystal Temple! A punishing new high level cave with chilling AI  and a whole set of new equipment to be discovered.
Your watch hasn't ended!
Crystal Temple will be released on June 1st. Arcadia will go offline at 10:00 AM to implement the update. Crystal Temple is a challenging expansion of Crystalline Passage with monsters set around level 160-164.
Looking for Celestial items, look no further! As well as dropping a new level 162 kit for each character class, Celestial items feature more greatly in the Troll King's drops than they do in any other boss in game.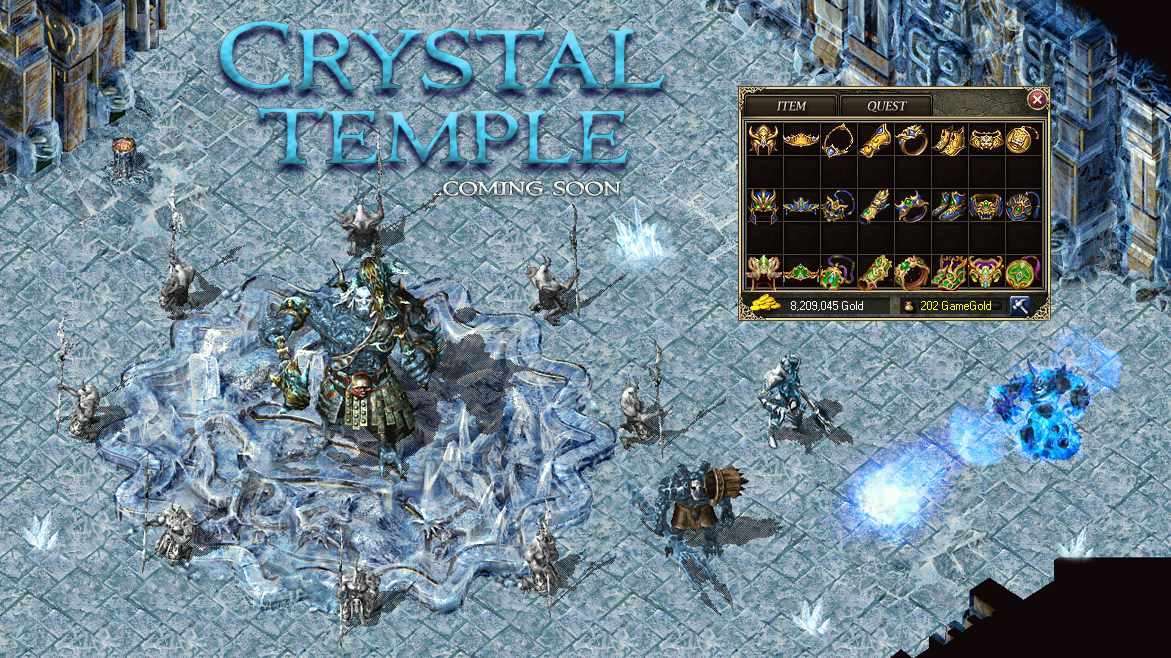 With the release of Crystal Temple a new level cap of 170 will be set. The soft level cap will also be raised to level 165 which will in turn increase the Resting Experience bonus.
Reaching the soft level cap may make it harder to gain experience, but each level above gives you +10% Drop Rate, +10% Magic Find and +10% Gold Find!
Events this week
DAY 1: Sat 25th 2PM (for 24 hours) – Drop rate multiplier x2
DAY 2: Sun 26th 2PM (for 24 hours) – Experience multiplier x1.5
DAY 3: Mon 27th 2PM (for 24 hours) – Double Supers and Champion Spawns
DAY 4: Tue 28th 2PM (for 24 hours) – Drop rate multiplier x2
DAY 5: Wed 29th 2PM (for 24 hours) – Extra 50% Magic Find
DAY 6 & 7: Thu 30th 2PM until Sat 1st 10AM – Experience multiplier x1.5
DAY 7: Release of Crystal Temple
All times are in BST. Double Drops and Experience Multipliers stack with your player stats (from potions etc). Hit F10 and look at your STATE window, your Exp Rate there will be multiplied by 1.5 and your Drop Rate will be multiplied by 2. That means any bonuses and potions you use are naturally boosted.
Double Supers and Champions relate to respawns. Running through caves and farming the supers isn't going to work. If you don't clear the cave, they won't spawn.