Paradise Sky
Based on the hugely successful Skies of Arcadia event hosted last year, we have created two brand new hunting grounds – Paradise Sky.
Head over to Arcadia and teleport into the heavens for a truly exciting experience in Paradise Isles or Paradise Lakes. Go head-to-head with a Timber Thorn and unearth new equipment, or take a team to defeat the Sky Knight for a chance to discover new skills and spells. Watch out for the dance of Four Tails, for his rage will make the ground tremble, and send you running back to town..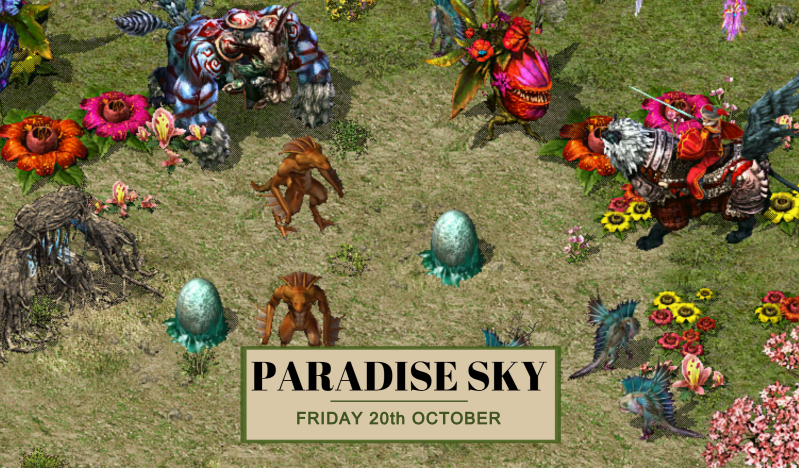 Regional Updates
Halls of Agony
has a new horde of Kings Guard aimed at level 140+. The old monsters have taken up refuge in Desolate Chamber with their Queen. This new area is boss-free, and is a safe-zone throughout.
Old Tomb
The Butcher of Old Tomb has rallied forces with his brothers in Naga Ruins. The higher concentration of monsters makes for a more challenging dungeon.
Ground Mover's Lair
is now empty as Ground Mover has relocated to another dungeon. Can you find him???
Updates Summary
✓ Three new hunting areas added
✓ Three new bosses added
✓ New items kits, armours
✓ Three new skills for each character class added
✓ New set of "super rares" added!
✓ Updated spawns for bosses and monsters
✓ Merged some caves and moved bosses
✓ Added some old bosses to random locations
✓ New item name colour for "super rares", including drop warnings
✓ Drop rates and tables, "super rares" added to more bosses
✓ Item prices have been balanced out to reflect level and rarity
✓ Increased pet food feeding rates
✓ Upgraded the Kevin gem refining system
✓ All legendary (red and blue monsters) have re-calibrated stats
✓ Can now tame 1 red legendary and up to max blue legendaries mobs
✓ Red Dragon power upgrades more slowly
✓ Limited push range on Red Dragon
✓ Cleaned up some errors in monster AI, movement and targetting
✓ Fixed errors in graphic rendering and map display