Joined

Aug 24, 2019
Messages

119
I am almost certain of WORLD guild of using an exploit / bug or glitch.
Yesterday Sunday 4th Of September there was a castle war on Fortevil, my guild won.. nobody came we won the castle and were declared the owners at 9PM Uk time.
Today Monday 5th Of September, this exploiter warriorlol (guild leader) of WORLD logs on with the castle... how is this even possible?!!
GM this is impossible because if he had declared war after we had won the castle (which he didnt) on Sunday, then there would have been a war on Wednesday at 8PM..
But somehow this cheater logs on at Monday at 1PM and has the castle? makes no sense lol, lets say he declared war and it became bugged so war starts on Monday 8pm instead of Wednesday, also not possible, he would have the castle by 9PM, and not by the morning wtf...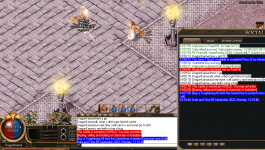 Scorpian please please look into this and if you find them have used exploits or glitch please ban these low lifes they do not deserve to be playing on this server!
This has not been done once but 3 times unfortunately i have only noticed now as the other ones i was inactive and thought they took the castle whilst i was offline